Who We Are
Boulder County needs more and better centers for infants and toddlers. We have the knowledge, experience, love, and desire to help fill this need.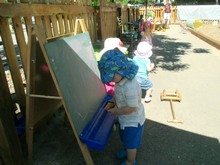 Shady place for drawing on the easel, while others, further down, play in sandbox.
Our approach
Heart & Hands Montessori: A Rich and Fun Learning Environment for the Very Young!
The center offers full day, full year care to infants and toddlers. Center hours are convenient for the schedules of working parents. Most children will attend full time (5 days per week) which benefits their connection with the teachers and other children as well as to activities which support their development.
Child-Directed Work: Our philosophy is to observe each child and offer an educational program based on his or her development. We support children in their natural abilities and let each child lead the way according to interests and motor abilities. This approach leads to greater engagement, growth of instrinsic motivation and development of responsibility.
Multi-Aged Classrooms: Infant classrooms have multiple ages from 6 weeks through 16 months; Todders are from 16 through 36 months. The benefits from the Montessori approach is that the younger children learn from the older ones who model the routines and how to handle the materials in the classroom. The older children take on more of a leadership role by reaching out to help and care for the younger ones. Because children develop physically, mentally and emotionally at their own pace, it is not effective to divide children by birthdays, such as the under ones, the twos, and the threes.
Freedom Within Limits: We respect each child as an individual in his or her own right and we believe that clear and respectful communication and touch are essential. We endeavor to create a partnership with each child by engaging interest and collaboration in all activities. At the same time we establish freedom within limits in the way the environment is set up, and the manner in which the teachers match children with work that they need and want to do. For example, if a child starts climbing on a table, we find a way to get the child to an indoor or outdoor climber. This supports a way of caring and responsibility for one's self, others and the environment.

Unique program
High standards, full year, full day, comprehensive, vibrant.
Safe, nurturing, spacious.
Trained and specialized staff (Montessori and RIE).
See Programs.
Important Points
Differentiators:
The center fosters a community feeling for parents and caregivers. We work as a team to benefit each child!
Heart and Hands Montessori is conveniently located on a quiet street.
Activities throughout the day are vibrant and fun. The playground is adjacent to the building for outdoor activities.
Music and conversation are in the air: Books are read, children hear singing, clapping, they move to music and use instruments. International CDs help them sleep. They learn to partner with adults in all routines.
A walking path passes right behind our building, so infants take stroller rides and toddlers take walks on the path which goes through a grassy park, home to mature trees, native birds and tiny insects.
Our facilities demonstrate attention to detail and are aesthetically pleasing, calm, clean and environmentally friendly, making them attractive to children and adults.
The owner/director is on-site and involved hands-on throughout the day.
Often Seen elsewhere:
Loud noises, chaotic movement, tight spaces.
Children confined in door swings and walkers.
Glaring lights, gaudy colors, harsh plastic surfaces.
Limited materials, often out of reach of children, disorderly storage.
Custodial style.
Key Elements
Highest quality of care for this age group.
Materials are developmentally appropriate.
Activities are alive, fun and interesting.
Teachers know child development, connect children to the next learning step, children are challenged and engaged.
The center fosters gentle, respectful communication.
Daily walks and stroller rides, free play on playground.
Updated - February 2, 2023